Jefferson Memorial Forest
Posted by Becky Lusch on Wednesday, October 7, 2015 at 12:24 PM
By Becky Lusch / October 7, 2015
Comment
Jefferson Memorial Forest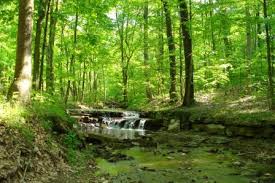 Louisville is fortunate to be the home of the largest municipal urban forest in the United States, the Jefferson Memorial Forest. It incorporates 6,500 acres of beautifully treed land on the southwest side of the city.
Originally founded in 1946, the forest is a tribute to the military veterans of Kentucky. It boasts over 35 miles of trails for both hiking and horse back riding, with excellent views of the city from the top of the hills, as it sits in the Knob Region of Kentucky. There is the 5.5-acre Tom Wallace Lake that's always dependable for a good day's fishing or a great picnic scene for you and your family. Camping, zip-lining, interactive education and team-building retreats are always great fun to be had there, as well!
This park provides an extraordinary variety of both plant and wild life and is designated as an Audubon Wildlife Sanctuary. You can find over 10 types of oak tress among the 50 different species that grow in Jefferson Memorial Forest. If you're enjoying a horse back ride or a hike, be on the look out for white tail deer, red foxes, horned owls and an occasional bob cat!
Be sure to visit the Welcome Center located in the original Mitchell Schoolhouse which was constructed in 1915. There you'll be able to gather your maps, hiking supplies and souvenirs so you'll be on your way to a day of great fun at Jefferson Memorial Forest!
Jefferson Memorial Forest
11311 Mitchell Hill Road
Fairdale, KY 40118
(502) 368-5404
http://louisvilleky.gov/government/jefferson-memorial-forest